Preparation for earthquakes generally provides some level of preparation for other disasters. In any case it is possible that you may be on your own for some time and have to help yourself and your neighbors. The California Seismic Safety Commission provides information that is intended to help you learn about and prepare for earthquakes.
Information To Help You Prepare
Protect yourself. Spread the word. Visit: DropCoverHoldOn.org, in Spanish too!
Drop, Cover, and Hold On is a website designed to help you prepare for an earthquake.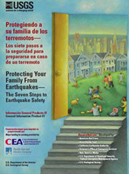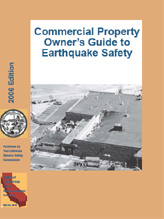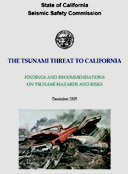 The Tsunami Threat To California Findings and Recommendations On Tsunami Hazards and Risks – Report released by the California Seismic Safety Commission.
Also see: Appendix "A" to CSSC report no. 05-03 for additional report details and PowerPoint presentations.
Putting Down Roots in Earthquake Country – Available to the public from the Earthquake Country Alliance
Echando Raíces en Tierra de Terremotos
Spanish Version
Bajar en español | Solicite una copia impresa en español | Request free Spanish-language handbook(s)



Los Siete Pasos de Seguridad contra Terremotos
Putting Down Roots in Earthquake Country
Southern California
A 32-page earthquake science and preparedness guide provides information for understanding where and when earthquakes will occur in Southern California.



SCEC – Download Roots
Putting Down Roots in Earthquake Country
San Francisco
Provides information about the threat posed by an earthquake in the San Francisco Bay Region, and explains how you can prepare for, survive, and recover.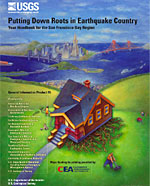 USGS – Download Roots SF