Cindy Silva
Chair, Representing: Local Government
Cindy Silva has been a member of the Walnut Creek City Council since 2006 and served as the City's mayor in 2011 and in 2013. As a city council member, Silva serves on numerous regional and state-level boards and agencies: Director, League of California Cities; director, East Bay Regional Communications Systems Authority; director and past chair, Central Contra Costa Solid Waste Authority (Recycle Smart); director and past chair, TRANSPAC (regional transportation planning committee); past president, East Bay Division, League of California Cities; chair, Contra Costa County Mayors' Conference. Professionally, Silva has 40 years of business experience in marketing and communications in industries as diverse as telecommunications, biotech, healthcare, and the non-profit sector. She is a summa cum laude graduate of the University of Southern California.
Fuad Sweiss
Vice Chair, Representing: Mechanical Engineer
Fuad Sweiss was appointed San Francisco Mayor Ed Lee's Senior Policy Advisor on Sea Level Rise in July 2016. He previously served as San Francisco City Engineer and Deputy Director for the Department of Public Works since January 2009. In that position, Mr. Sweiss oversaw the Design & Construction arm of the City's Public Works department including four Divisions with about 500 employees managing over 200 projects valued at about $2.0 billion. In May 2013, Governor Brown appointed Mr. Sweiss to the California Seismic Safety Commission for a two-year term and renewed the appointment in May 2015 for four years. Fuad is passionate about collaboration and sharing San Francisco's initiatives on seismic strengthening of buildings and resiliency programs with other cities and jurisdictions throughout California. Also, he travelled to other countries to inspect earthquake damaged areas and to lecture on seismic safety and earthquake early warning systems.
Mr. Sweiss has about 35 years of experience in the management, design, and construction of projects in the public and private sectors including 18 years with the City of Oakland, seven years with Black and Veatch & the CEC in Amman, Jordan working on USAID funded projects, and three years managing his own small real estate development and consulting engineering firm. Mr. Sweiss graduated from the University of Jordan in 1981 with a B.Sc. Degree in Civil Engineering. He is licensed in the State of California as a Professional Civil Engineer, a Professional Land Surveyor, General Contractor, LEED AP, and Real Estate Broker.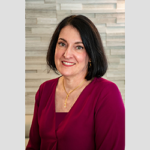 Ida A. Clair
Representing: State Architect
Ida A. Clair was appointed as the first female State Architect in April 2021. Ida leads four regional offices and a headquarters office in providing design and construction oversight of public K–12 schools, community colleges, and various other state-owned and leased facilities, and in rulemaking development for accessibility for California's public accommodations, public buildings, commercial buildings and public housing.
Prior to taking up the mantle as State Architect, Ida was the Principal Architect where she managed the accessibility, sustainability, and fire & life safety programs for public K–12 schools and community colleges, directed CALGreen regulatory development applicable to school facilities, directed Access Code regulatory development for the State of California, and administered the Certified Access Specialist (CASp) Program. From 2013–2016 Ida served as DSA's first technical administrator of the CASp Program where she established the Program's professional practice standards, improved regulatory standards and provided examination development and training.
Ida has twenty-six years' experience in private architectural practice where she specialized in the design and construction of affordable and sustainable multifamily residential facilities and provided accessibility compliance surveys and third-party accessibility plan reviews for a major health care provider. A CASp, Ida was instrumental in the creation of the Certified Access Specialist Institute in 2010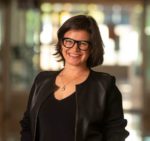 Alegria De La Cruz
Representing: Social Services
The Board of Supervisors appointed Alegría as the Interim Director of the Office of Equity in August of 2020. In September of 2020, the Board appointed her as the permanent Director. Previous to her role as the Director of the Office of Equity, Alegría served in the County Counsel's Office as Deputy County Counsel (2015-2017) and as Chief Deputy (2017-2020). Before joining the County of Sonoma in 2015, Alegría worked in public service and public interest for the State of California, Agricultural Labor Relations Board; the Center on Race, Poverty & the Environment; and California Rural Legal Assistance. Alegría holds a Bachelor of Arts in History from Yale University, a law degree from the University of California, Berkeley, School of Law, and has been a licensed attorney in California since 2003. Alegría is a current member of the Board of Directors of the Dolores Huerta Foundation, founding Member of SoCo Latinx Employee Resource Network, Santa Rosa City Schools Trustee for Area 3, and the Board Chair of the Sonoma County Secure Families Collaborative. Recent past board service positions include SoCo Rises, Raizes Collective, and the U.S. Department of Agriculture, Farm Service Agency California State Committee.
Alegría identifies as Chicana and recognizes, embraces, and celebrates her responsibility to contribute meaningfully to public service, social justice, and equity. On the weekends, you can find her in a wetsuit body surfing at Doran Beach, reading fiction, and running slowly through Sonoma County's beautiful parks.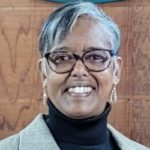 Debra Garnes
Representing: Local Government
Debra L. Garnes was elected to the Rio Dell City Council in November 2014. She is currently serving her second term as Mayor. In her elected capacity she serves on the Humboldt/Del Norte Hazardous Response Authority and President, Redwood Empire Division, League of California Cities. Garnes, retired from Sacramento Municipal Utility District, spent her career in the fields of hazardous waste mitigation, hazardous materials, hazardous materials emergency response and first responder emergency response. Garnes has strong entrepreneurial experience having owned a successful small business in North Sacramento for many years. Garnes was appointed to the Seismic Safety Commission by Governor Gavin Newsom in 2021.
Mark S. Ghilarducci
Representing: California Governor's Office of Emergency Services
Mark S. Ghilarducci serves as the Director of the California Governor's Office of Emergency Services, appointed July 1, 2013 by Governor Edmund G. Brown Jr. Ghilarducci previously served as Secretary of the California Emergency Management Agency appointed in February 2012 by Governor Brown. As a member of the Cabinet, Director Ghilarducci serves as the Governor's Homeland Security Advisor and oversees statewide public safety, emergency management, emergency communications, counter-terrorism efforts and the State Threat Assessment System.
In 2000, he was appointed as Deputy Director of the California Governor's Office of Emergency Services where he oversaw statewide emergency operations, planning and training. Previously he served as a Federal Coordinating Officer (FCO) with the U.S. Federal Emergency Management Agency. Mr. Ghilarducci has over 30 years of diversified service in both the public and private sectors, in the emergency services, fire and rescue and homeland security disciplines.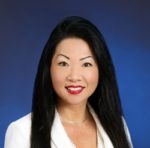 Joone Kim-Lopez
Representing: Public Utility
Joone Kim-Lopez has been General Manager at the Moulton Niguel Water District since 2012. She was General Manager at the Calaveras County Water District from 2010 to 2012. Kim-Lopez was Assistant General Manager at Apple Valley Ranchos Water Company from 2008 to 2010. She was Deputy General Manager at the Central Basin Municipal Water District from 2003 to 2008. Kim-Lopez was a Police Officer and Corporal at the Pasadena Police Department from 1995 to 2003. She was a Grant Administrator at the City of Pasadena from 1994 to 1995. Kim-Lopez earned a Master of Public Administration degree from California State University, Northridge. She is a member of the NAACP California and Hawaii Executive Committee and the CORO Women in Leadership Advisory Board. Kim-Lopez is a board member of the Korean American Coalition, California WateReuse Association, California Water Data Consortium, Southern California Water Coalition, Water UC Irvine Leadership Board, Water Now Alliance, Make-A-Wish Foundation, Tilly's Life Center, California State University, Fullerton – Center for Real Estate, South Orange County Wastewater Authority, Smart Water Network Forum and the Association of California Water Agencies.
Mia Marvelli
Representing: Building Standards Commission
Mia Marvelli, Commissioner: Marvelli, a licensed Architect, is the California Building Standards Commission (CBSC) Executive Director. Marvelli joined CBSC in 2012 with 20 years of prior state service including the Department of Water Resources and the Department of General Services, Real Estate Services Division. Marvelli was selected as the CBSC executive director in February 2016. CBSC administers the processes related to the adoption, approval, publication, and implementation of the California Building Standard Code, Title 24, California Code of Regulations. Marvelli serves as a SSC Commissioner pursuant to Government Code Section 8870.2 which requires one member of CBSC be represented on the Seismic Safety Commission.
Dr. H. Kit Miyamoto
CEO, Miyamoto International President, Miyamoto Global Disaster Relief, California Seismic Safety Commissioner, Representing: Structural Engineer
Dr. Miyamoto is a world-leading expert in disaster resiliency, response and reconstruction. He provides expert engineering and policy consultation to the World Bank, USAID, UN agencies, governments and private sector. He is a California Seismic Safety Commissioner, a Global CEO of Miyamoto International and a structural engineer.
From the devastating 2010 Haiti earthquake to the Ecuador, Nepal, Indonesia, New Zealand, Mexico and 2020 Puerto Rico earthquakes, Dr. Miyamoto has led teams of experts on dozens of response and reconstruction projects around the world. He also led critical seismic risk reduction programs in Turkey, the Philippines, Romania and Bangladesh, as well as disaster risk mitigation policy work in Colombia, Costa Rica, Ecuador and El Salvador. He is one of the most respected minds in disaster resiliency and recovery.
Dr. Miyamoto holds advance degrees from the Tokyo Institute of Technology and California State University, where he has been recognized as a Distinguished Alumni. His team won the Engineering News-Record's "Best Global Project" award four times and the U.S. Presidential "E" award. Major media such as ABC, CNN, LA Times, NY Times and Rolling Stone have profiled him. He was also featured in the "Designing for Disaster" exhibit at the National Building Museum.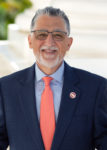 Senator Anthony Portantino
Representing: Senate Member
Senator Anthony Portantino represents California's 25th State Senate District, which stretches along the 210 Freeway from Sunland/Tujunga to Upland. Supporting public education, mental health, and sensible gun control have been priorities for Senator Portantino during his time in office. He personally negotiated the end of the 710-freeway tunnel with the Brown administration and authored SB 7, which formally ended the threat of the freeway, protected the non-profits in the corridor, and paved the way for Pasadena to develop the dormant freeway stub. Senator Portantino currently serves as the Chair of the Senate Appropriations Committee and a Select Committee to foster trade between California, Armenia, and Artsakh. Prior to his years as a representative, he spent many years working in film and television production, served on the California Film Commission, and spent nearly eight years on the La Cañada Flintridge City Council, with two terms as Mayor.  In 2019, he was awarded the prestigious Ellis Island Award at a ceremony in the historic island's great hall. Senator Portantino grew up in New Jersey, where he attended public schools and graduated from Albright College in Reading, Pennsylvania, where he met his future wife, Ellen, a longtime business executive at Warner Brothers and Disney.  They have two daughters.
David Rabbitt
Representing: Local Government
Supervisor David Rabbitt was elected to the Sonoma County Board of Supervisors in November 2010.  The senior member of the Board is serving his fourth term representing the diverse blend of urban and rural comprising the Second District of Sonoma County. The Supervisor has served as Chair of the Board of Supervisors on three occasions including unprecedented back-to-back terms in 2013 and 2014.  Supervisor Rabbitt also serves as a Director of the Golden Gate Bridge Highway Transportation District, Director of the Association of Bay Area Governments, Commissioner on the Metropolitan Transportation Commission, Chair of Sonoma-Marin Area Rail Transit and Chair of the North Bay Water Reuse Authority. He was appointed by Governor Brown to the California Seismic Safety Commission in 2013 and again in 2017 and reappointed by Governor Newsom in 2021 representing local government. Supervisor Rabbitt is an architect and resides in Petaluma.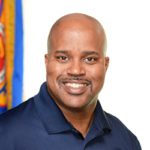 Vincent Wells
Representing: Fire Protection
Vincent L. Wells of Elk Grove has been appointed to the Alfred E. Alquist Seismic Safety Commission. Wells served as Fire Captain and Paramedic at the Contra Costa Fire Protection District from 1997 to 2020. He was a Firefighter and Paramedic at the Fairfield Fire Department from 1995 to 1997. Wells served in the U.S. Air Force from 1985 to 1992.
Vacant Assembly Member (s)
Representing: Assembly Member
Vacant Insurance Commissioner
Representing: Insurance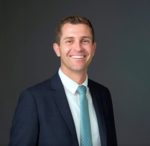 Kevin McGowan
Representing: Emergency Services
Kevin McGowan serves as the Director of the Los Angeles County Office of Emergency Management. Leading an all-hazards emergency management program, Mr. McGowan is responsible for countywide emergency management preparedness, planning, coordination, training, response, recovery and mitigation efforts. During his tenure with Los Angeles County and in previous emergency management positions, Mr. McGowan has led preparedness, response and recovery efforts for multiple presidential major disaster declarations and for numerous natural, technological and human caused disasters such as wildland fires, debris flows, severe winter storms, a mass fatality shooting and hazardous materials events.
A native of Southern California, Mr. McGowan holds a bachelor's degree from the University of North Carolina at Chapel Hill and a master's degree in Public Policy from Pepperdine University. Mr. McGowan has attended a variety of emergency management educational programs, to include FEMA's National Emergency Management Executive Academy, the Naval Post Graduate School's Center for Homeland Defense and Security's Executive Leaders Program and Harvard University's Kennedy School of Government Leadership in Crises.