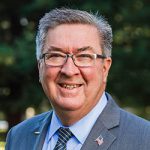 Assembly Member Ken Cooley
Representing: Assembly Member
Mr. Cooley was elected to the State Assembly in November, 2012. He was appointed as the Assembly representative to the Alfred E. Alquist Seismic Safety Commission by Speaker John A . Perez in 2013. This, however, was not his first time on the Commission. Prior to his tenure in the Assembly, Mr. Cooley served to represent California's Cities on the Commission when he was appointed by Governor Schwarzenegger in 2007.
Mia Marvelli
Representing: Building Standards Commission
Mia Marvelli, Commissioner: Marvelli, a licensed Architect, is the California Building Standards Commission (CBSC) Executive Director. Marvelli joined CBSC in 2012 with 20 years of prior state service including the Department of Water Resources and the Department of General Services, Real Estate Services Division. Marvelli was selected as the CBSC executive director in February 2016. CBSC administers the processes related to the adoption, approval, publication, and implementation of the California Building Standard Code, Title 24, California Code of Regulations. Marvelli serves as a SSC Commissioner pursuant to Government Code Section 8870.2 which requires one member of CBSC be represented on the Seismic Safety Commission.
Mark S. Ghilarducci
Representing: California Governor's Office of Emergency Services
Mark S. Ghilarducci serves as the Director of the California Governor's Office of Emergency Services, appointed July 1, 2013 by Governor Edmund G. Brown Jr. Ghilarducci previously served as Secretary of the California Emergency Management Agency appointed in February 2012 by Governor Brown. As a member of the Cabinet, Director Ghilarducci serves as the Governor's Homeland Security Advisor and oversees statewide public safety, emergency management, emergency communications, counter-terrorism efforts and the State Threat Assessment System.
In 2000, he was appointed as Deputy Director of the California Governor's Office of Emergency Services where he oversaw statewide emergency operations, planning and training. Previously he served as a Federal Coordinating Officer (FCO) with the U.S. Federal Emergency Management Agency. Mr. Ghilarducci has over 30 years of diversified service in both the public and private sectors, in the emergency services, fire and rescue and homeland security disciplines.
Dr. H. Kit Miyamoto
Chairman, CEO, Miyamoto International President, Miyamoto Global Disaster Relief, California Seismic Safety Commissioner, Representing: Structural Engineer | End of Term: 5/15/19
Dr. Miyamoto is a world-leading expert in disaster resiliency, response and reconstruction. He provides expert engineering and policy consultation to the World Bank, USAID, UN agencies, governments and private sector. He is a California Seismic Safety Commissioner, a Global CEO of Miyamoto International and a structural engineer.
From the devastating 2010 Haiti earthquake to the Ecuador, Nepal, Indonesia, New Zealand, Mexico and 2020 Puerto Rico earthquakes, Dr. Miyamoto has led teams of experts on dozens of response and reconstruction projects around the world. He also led critical seismic risk reduction programs in Turkey, the Philippines, Romania and Bangladesh, as well as disaster risk mitigation policy work in Colombia, Costa Rica, Ecuador and El Salvador. He is one of the most respected minds in disaster resiliency and recovery.
Dr. Miyamoto holds advance degrees from the Tokyo Institute of Technology and California State University, where he has been recognized as a Distinguished Alumni. His team won the Engineering News-Record's "Best Global Project" award four times and the U.S. Presidential "E" award. Major media such as ABC, CNN, LA Times, NY Times and Rolling Stone have profiled him. He was also featured in the "Designing for Disaster" exhibit at the National Building Museum.
David Rabbitt
Representing: Local Government
Supervisor David Rabbitt was elected to the Sonoma County Board of Supervisors in November, 2010 and is serving his second term representing the diverse blend of urban and rural comprising the Second District of Sonoma County. The Supervisor served two consecutive terms as Chair of the Board of Supervisors in 2013 and 2014 and is currently Chair Pro Tem for 2017. In 2017, Supervisor Rabbitt's regional assignments include the Golden Gate Bridge District, Association of Bay Area Governments, Sonoma-Marin Area Rail Transit and the North Bay Water Reuse Authority. Supervisor Rabbitt's countywide assignments include Sonoma County Employee Retirement Association, Sonoma County Transportation Authority/Regional Climate Protection Authority. He was appointed by the Governor to the California Seismic Safety Commission in 2013 and reappointed in 2017 representing local government. Supervisor Rabbitt is an architect, and resides in Petaluma with his wife and three children.
Cindy Silva
Vice Chair, Representing: Local Government | End of Term: 5/15/21
Cindy Silva has been a member of the Walnut Creek City Council since 2006 and served as the City's mayor in 2011 and in 2013. As a city council member, Silva serves on numerous regional and state-level boards and agencies: Director, League of California Cities; director, East Bay Regional Communications Systems Authority; director and past chair, Central Contra Costa Solid Waste Authority (Recycle Smart); director and past chair, TRANSPAC (regional transportation planning committee); past president, East Bay Division, League of California Cities; chair, Contra Costa County Mayors' Conference. Professionally, Silva has 40 years of business experience in marketing and communications in industries as diverse as telecommunications, biotech, healthcare, and the non-profit sector. She is a summa cum laude graduate of the University of Southern California.
Fuad Sweiss
Representing: Mechanical Engineer | End of Term: 5/15/19
Fuad Sweiss was appointed San Francisco Mayor Ed Lee's Senior Policy Advisor on Sea Level Rise in July 2016. He previously served as San Francisco City Engineer and Deputy Director for the Department of Public Works since January 2009. In that position, Mr. Sweiss oversaw the Design & Construction arm of the City's Public Works department including four Divisions with about 500 employees managing over 200 projects valued at about $2.0 billion. In May 2013, Governor Brown appointed Mr. Sweiss to the California Seismic Safety Commission for a two-year term and renewed the appointment in May 2015 for four years. Fuad is passionate about collaboration and sharing San Francisco's initiatives on seismic strengthening of buildings and resiliency programs with other cities and jurisdictions throughout California. Also, he travelled to other countries to inspect earthquake damaged areas and to lecture on seismic safety and earthquake early warning systems.
Mr. Sweiss has about 35 years of experience in the management, design, and construction of projects in the public and private sectors including 18 years with the City of Oakland, seven years with Black and Veatch & the CEC in Amman, Jordan working on USAID funded projects, and three years managing his own small real estate development and consulting engineering firm. Mr. Sweiss graduated from the University of Jordan in 1981 with a B.Sc. Degree in Civil Engineering. He is licensed in the State of California as a Professional Civil Engineer, a Professional Land Surveyor, General Contractor, LEED AP, and Real Estate Broker.
Andrew (Andy) Tran
Representing: Insurance | End of Term: 5/15/19
Andy is a Senior Vice President and Head Property Underwriting for US Core Partners Group at Swiss Re. One of his main responsibilities is to manage the underwriting of the Property reinsurance treaty portfolio.
Prior to his current position, Andy was head of Property Actuarial Unit and head Structured Reinsurance Actuarial department. Since joining Swiss Re in 1996, he has held many lead roles including pricing property and casualty reinsurance business, managing loss reserve estimates, and financial reporting including actuarial opinions. And prior to joining Swiss Re, Andy was with Fireman's Fund Insurance Company and Sullivan Brokerage Companies. Andy graduated from the University of California of Los Angeles with a BS in Applied Mathematics and Science. He is an Associate of the Casualty Actuarial Society (ACAS), a Member of the American Academy of Actuaries, and Chartered Property and Casualty Underwriter (CPCU).